Client Highlight: Steve Stoloff: Make Every Day Your Passion Project
Posted by Financial Strategies Group in Blog Posts, Family, Health and Happiness, Retirement
11
May
2022
Our client Steve is a great example of taking life by the reins and using your post-career years to fill your days with your own version of paradise.
When we called Steve for his interview, he was sitting in his own little slice of paradise, in his backyard, looking out over the lake under the shade of his ficus tree.
Chatting with Steve about his retirement is exactly what anyone should do who is even slightly worried that they'll be bored during retirement. As someone who has a different activity planned for each day of the week. From golf to tennis, swimming, and biking, his days are nothing short of active, and each day reflects a passion of his that began in his previous working years, and only now can he enjoy each of them to their fullest.
Steve believes that retirement isn't the end of anything, and it shouldn't be difficult. It should be a chance to do what you've always wanted to do and maybe just never had the time for. As a previous guidance counselor, Steve definitely had a busy and fulfilling career and is grateful for where his journey led him to today. "I'm equally grateful for my retirement and the years before it. For Dorothy and me, it's been a blessing, no regrets".
Steve makes every. Single. Day, a passion project. He even went so far to say that he "wishes we could get eight days in a week instead of seven because then he'd have a day of rest."
Mondays are for golf, Tuesdays and Wednesdays are for tennis, and Thursdays are for biking and swimming laps. On Sunday, one could say he slightly "slows down," which in Steve's definition is a nice long walk in a local park where he finishes up with some swimming laps and ends his day watching football. As an avid heat and panthers fan, he stays loyal to his local teams with season tickets to the heat games.
When we asked Steve if he'd do anything differently so far in this life, he paused briefly before explaining why he wouldn't. "With the way everything has turned out, I can't look back now and say there could have been something different because it wouldn't be the way it is now, and I'm very happy with how it all turned out."
Isn't this the outlook we all hope to have when we look back on the years before us? We certainly aspire to.
His suggestion for others trying to find their way to a successful retirement is put simply, Have a plan. Not only a plan for finding your passion for when life joyfully slows down and you have time just to be, but also for the financial aspect. Putting a plan in place during your formative years of work is the key to having a comfortable and peaceful retirement.
One of the questions we always love to ask our clients who have found the path to a successful second chapter is to share what they consider to be the recipe for happiness. For Steve, that's living a healthy and fulfilling life made up of these three factors; being financially comfortable, exercising, and traveling. His favorite place to travel to is their annual trip to Ann Arbor in October. This is where both of his grandchildren attend school. He considers this a "doubleheader," A chance for him and his wife Dorothy to spend time with their beautiful grandchildren and see the fall foliage.
Steve is a much-needed reminder to all of us to make the most of our days and never stop pushing ourselves.
As we finished our conversation, Steve was happy to be able to report that the "icing on the cake is having his son and his daughter's families close by." As we all know, it's the people in our lives and the time we spend with them that makes life feel truly full.
Thank you, Steve, for allowing us the pleasure of telling your story and sharing what you've learned along the way.
"It's a good day in paradise."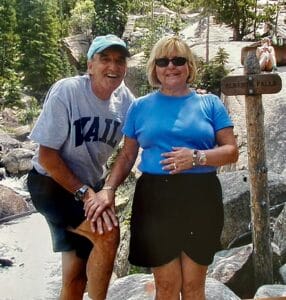 Steve and his wife, Dorothy.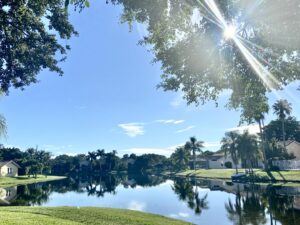 Steve's view from under the ficus tree.