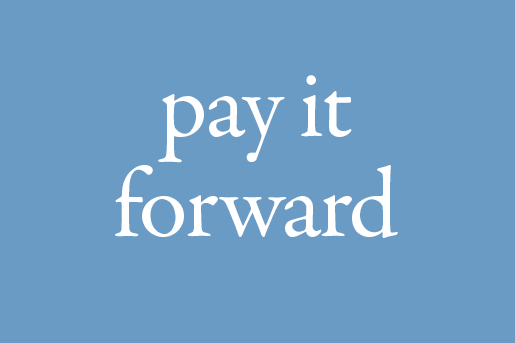 Why it's Nice to Be Important, But More Important To Be Nice
Posted by Kimberly DeProspero in Giving More
07
Oct
2014
A 'Pay It Forward' effort made the news recently when Starbucks patrons in Florida kept paying for coffees in a drive-thru streak that ended with customer number 458.
Wow. That's some positive energy, right there.
Pay It Forward has become a cultural phenomenon in recent years due to social media, but doing something nice for someone 'just because' is nothing new. And while it's nice to receive recognition for good deeds done, our primary motivation for acting kindly shouldn't be because we're angling for a retweet or a Facebook mention.
At Financial Strategies Group, we love the idea of Pay It Forward. So we printed some business cards to act as reminders to our clients, friends, and family to engage others in random acts of kindness. The idea is simple: do an act, and leave the card as a reminder for someone else to do it, too.
If you're reading this because you received a card with our web address printed on it, we're glad you took the time to visit. More importantly, we hope you enjoyed your random act of kindness! If you'd like, check out our Giving More blog for more inspiring stories from people just like you who are focused on making a difference.
For Pay It Forward inspiration, check out these links:
109 Random Acts of Kindness You Can Start Doing Today
14 Simple Ways to Pay It Forward On a Daily Basis
#1-307700