Kimberly DeProspero, CFP® Attends LPL Financial's Women Advisors Leadership Forum
Posted by Financial Strategies Group in Blog Posts, Continuing Education
01
Dec
2016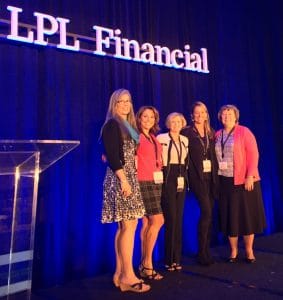 Kimberly DeProspero of Financial Strategies Group in Weston, Florida recently attended LPL Financial's inaugural Women Advisors Leaders Forum, an invitation-only conference for top female advisors hosted by LPL Financial, a leading retail investment advisory firm and the nation's largest independent broker/dealer*. DeProspero is supported by the LPL platform.
Hosted in Carlsbad, Calif., more than 100 female advisors, LPL executives and industry leaders convened at the forum with the goal to further empower the some of the top women advisors in the industry. The conference provided opportunities to network, share best practices and create a community to help women advisors succeed. Advisors attended sessions covering a range of topics to help them manage and grow their businesses, and heard from industry leaders and sponsors on trends and insights impacting the financial services industry. The keynote speaker was Judy Smith, founder and president of leading crisis communications firm, Smith & Company, author of "Good Self, Bad Self," and inspiration for the hit television show "Scandal."
"As a business owner, my number priority is serving the needs of my clients," said DeProspero. "By taking the opportunity to attend LPL's women's forum, I am able to gather best practices from other successful women advisors and demonstrate my commitment to supporting my clients as we work together toward their financial goals. It was also wonderful to see the representation of diversity in our industry and to appreciate that being an independent financial advisor with LPL is empowering to our success as women professionals."
About Financial Strategies Group
Financial Strategies Group dedicates their time and expertise to your unique financial needs. Through LPL Financial, Financial Strategies Group is led by the husband-and-wife team of Hank Cleare and Kim DeProspero. Hank and Kim offer clients a rare and valuable dynamic in financial planning services: a dual perspective. They work together, sharing ideas and strategies to help create a future that fits your values and your vision. Financial Strategies Group: giving more than just investment advice. Learn more at www.fsgplanners.com.
About LPL Financial
LPL Financial LLC, a wholly owned subsidiary of LPL Financial Holdings Inc. (NASDAQ:LPLA), is a leader in the retail financial advice market and served $502 billion in advisory and brokerage assets as of September 30, 2016. LPL is one of the fastest growing RIA custodians and is the nation's largest independent broker-dealer (based on total revenues, Financial Planning magazine June 1996-2016). The Company provides proprietary technology, comprehensive clearing and compliance services, practice management programs and training, and independent research to more than 14,000 independent financial advisors and over 700 financial institutions, enabling them to help their clients turn life's aspirations into financial realities. Advisors associated with LPL also serviced an estimated 45,000 retirement plans with an estimated $129 billion in retirement plan assets, as of September 30, 2016. LPL also supports approximately 4,200 financial advisors licensed and affiliated with insurance companies with customized clearing, advisory platforms, and technology solutions. LPL Financial and its affiliates have more than 3,200 employees with primary offices in Boston, Charlotte, and San Diego. For more information, please visit www.lpl.com.
*Based on total revenues, Financial Planning magazine, June 1996-2016
Securities and advisory services offered through LPL Financial, a Registered Investment Advisor. Member FINRA / SIPC.
1-549719