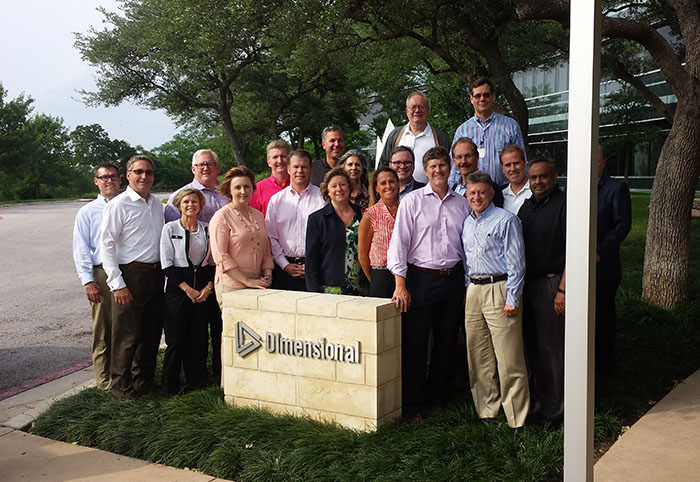 Kimberly DeProspero And Hank Cleare Attend Private Workshop At Dimensional Fund Advisors (DFA)
Posted by Financial Strategies Group in Dimensional Funds Advisors
07
Jul
2015
Kimberly DeProspero and Hank Cleare of Financial Strategies Group, along with nineteen other independent advisor members from Integrated Financial Group attended a private, two-day workshop hosted by Dimensional Fund Advisors (DFA) in Austin, Texas, May 7-8, 2015. The workshop provided advisors: a detailed review of Dimensional's investing research, a "deep dive" into Dimensional's equity and fixed income implementation and trading strategies, and an in-depth analysis of Integrated Financial Group's proprietary New Dimensions™ structure and design utilizing Dimensional's research.
Hank Cleare said, "It was like a mini, two-day MBA program with amazing insight into Dimensional's academic research and real-world implementation.  Kimberly DeProspero said, "Not only did we get direct access to top level management and portfolio managers," but even after working with Dimensional since 2003, we continue to walk away with something new, and we deeply value our relationship with Dimensional Fund Advisors."
For more than 30 years, Dimensional Fund Advisors have helped investors pursue dimensions of higher expected returns through advanced portfolio design, management, and trading. Their enduring philosophy and deep working relationships with the academic community underpin their approach to investing and form the foundation for new strategies.
For more information on how Financial Strategies Group might help you meet your financial goals, please contact us at 954.888.4680, or email us at kim-hank@fsgplanners.com
#1-396165