From Southern Company to Santa Claus
Posted by Financial Strategies Group in Blog Posts, Retirement
16
Dec
2016
Jerry Gallagher's joy is contagious; it energizes everyone he meets. His kind words and happy laugh brighten days and draw people to him everywhere he goes. So when Jerry started growing out his beard this summer, it came as no surprise when a man at Costco approached him and asked, "Have you ever considered being a Santa Claus?"
The man went on to say that the Northern Lights Santa Academy was offering classes at a local hotel in the Fall for anyone interested in becoming a professional Santa. "You have happy eyes and the beginnings of a good beard. You should check it out."
Jerry and his wife Janice were intrigued. Oh, what fun!
They did some initial research and decided to register Jerry for the September conference in Alpharetta. Much to their delight, on the day of the event they walked into a large hotel conference room filled with other Santas with similar intentions. Jerry attended classes on everything from grooming and makeup to ethics and how to answer tough questions. He decided to join the International Brotherhood of Real Bearded Santas (IBRBS), an international organization dedicated to being 'the preeminent Santa community in the world', and they're serious about their standards. Training, background checks and liability insurance are required so that the magic of Christmas can live on.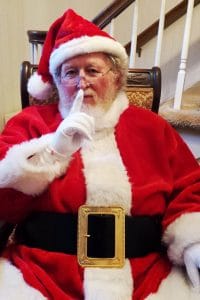 After the conference Jerry ordered his suit, and together, the Gallaghers spread the word about their new Holiday gig.
"It's mostly word-of-mouth. So far I've gotten jobs at a Publix, a preschool, Cabela's and a few other locations in Midtown Atlanta. I'm really excited about my work. Janice didn't want to do the Mrs. Claus thing, though. She's my manager." Jerry says with a giggle, "I've always enjoyed working with kids, and being Santa really gives us both something to look forward to."
Jerry retired in 2010 after 38 years with Southern Company in Atlanta. In fact, that's where he met his sweetheart, Janice in 1979. Two daughters, two grandchildren, and 37 years later, they now spend lots of time on the road between Atlanta and Orlando visiting their family. They've also traveled a great deal internationally since retirement. Jerry and Janice have been working with Hank Cleare and Financial Strategies Group since 2002.
When asked about tips for other new retirees with time on their hands, Jerry says, "Just get involved somewhere. It's better than sitting around! Volunteer at your church. Help seniors who can't get out, and keep your eyes and ears open to what others are saying, because life doesn't stop when you retire. It just changes direction."
"One of the most rewarding aspects of our job is watching clients enjoy their retirement."  Hank goes on, "Jerry and Janice are the perfect example of what retirement should encompass: family, friends, travel and new experiences."
Recently retired or planning for it soon?
Financial Strategies Group offers more than just investment advice to their clients. Hank and Kim help people make decisions about their future with the goal to lead them towards more satisfying life experiences.
If you have questions, we're always here for you. Don't hesitate to call our office at 954-888-4680.
#1-163305