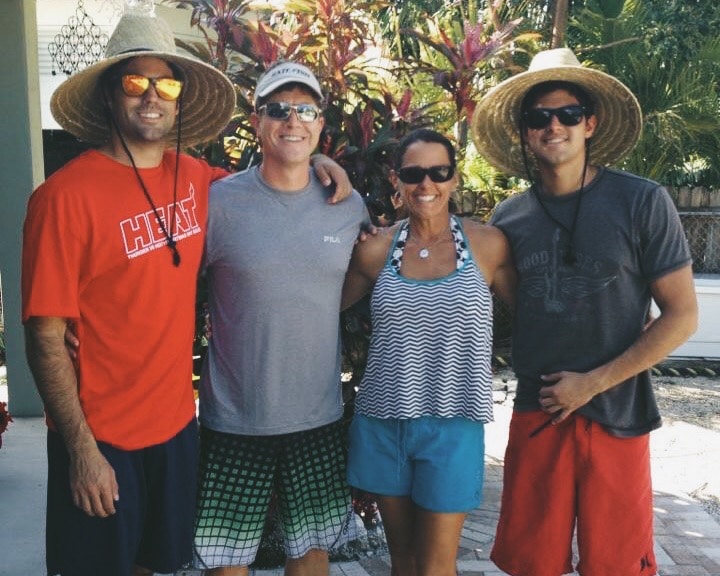 Family First: How a Third Gen Financial Services Firm Stays Focused on What's Important
Posted by Financial Strategies Group in Financial Planning
23
Feb
2016
Every day is a family affair at Financial Strategies Group in Weston, Florida.
CFP® Kim DeProspero opened her own financial services practice in 2003 but has been serving South Florida communities since 1986. Prior to his passing from Alzheimer's in 2011, Kim worked side-by-side with her father, Bob DeProspero, whose 40-year career in the Financial Service Industry was well-regarded locally. In 2011, Kim and her husband, Hank Cleare, merged their practices under Financial Strategies Group. Now Kim's oldest son, Nick, is the most recent addition to a long line of family financial planners, and Chris, the youngest, works for Eaton Vance Funds in Boston.
Nick says family has always been the focus. He and his brother, Chris, grew up living next door his grandparents, raised by single mom, Kim. There was a gate that connected their yards, and lots of opportunities to listen to stories about the business. Clients were friends, and values about money, saving, and helping others were woven into the fabric of their everyday lives. Nick recalls a time when, around the age of 10, he and his neighborhood buddies chased down the ice cream truck and then discovered that Nick was the only one with cash for a treat. "So, I bought all my friends ice cream that day. I always had money saved. I might have been frustrated as a kid about chores and rules about spending, but looking back, I really appreciate what my Mom taught me."
Unlike other third gen family businesses who experience reluctant and sometimes hostile attitudes towards technology and change, with Kim and Hank, it's the opposite. "Working with Nick helps push us out of our comfort zone with gadgets and forces us to think differently about workflow processes and relationships." says Kim, "We love Nick's Millennial perspective; he's part of a tech-immersed, informed generation. I believe it makes us better."
That kind of cooperation is invaluable when it comes to planning for the future, both for clients and for the firm. Financial Strategies Group is passionate about building relationships with the children of their clients, so they can help families establish a legacy that passes on not just what clients have earned, but what they've learned. Through education and communication, the FSG Team creates a way to pass on principles, life lessons and wealth to the next generation.
Similarly, growing up surrounded by financial planners had a big impact on Nick's ultimate career choice. A 2013 Florida State graduate and recent enrollee to the CERTIFIED FINANCIAL PLANNER ™ PROFESSIONAL program,  Nick initially considered law but felt drawn to financial planning because of his desire to help people and have depth in his relationships with clients.
"The things he's learned along the way help him intuitively understand what clients are going through. He's heard conversations from both client and advisor perspectives his entire life." Kim adds, "He's lived through hard family decisions surrounding the health of loved ones personally, and supported those decisions professionally. You can't fabricate that kind of experience. It's uniquely woven into his life and it's informing the way he's developing and adding value to our clients and our practice. I'm excited for his future; We love having him as part of our FSG Family!"
In January Hank, Kim and Nick traveled to Atlanta to attend an annual conference with other advisor members from Integrated Financial Group, a Consortium of independent LPL financial planners from across the country. Hank and Kim are founding members and since its inception in 2003, the group has maintained a culture of passionate, strictly vetted independent financial planner members who support the notion that many minds are greater than one. This Consortium of expertise is called the Brain Trust. Hank, Kim and Nick's affiliation with this unique group is invaluable; it gives them access to a network of talented, like-minded peers who share strategies, best practices and advice. Their clients benefit from the collective expertise of the Brain Trust in addition to the perks of Financial Strategies Group's customized financial planning approach.
Going forward, the FSG Team will continue to focus on family…theirs, and those of the clients they serve. Expect to have a different conversation with Financial Strategies Group than you might with some financial services firms. That's because they recognize that life is about more than just your finances—it's about your values and your vision for the future.
To learn more about Financial Strategies Group unique dual perspective approach to financial planning, click here.
1-466530