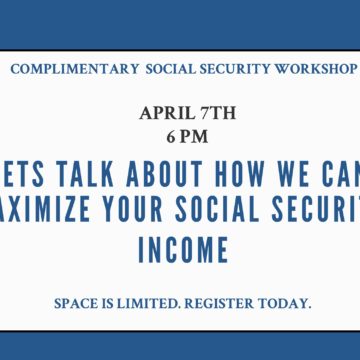 When
April 7, 2020
6:00 pm - 7:15 pm
Where
Financial Strategies Group
500 Sawgrass Corporate Parkway, Suite 100
Sunrise, FL 33325
Social Security Workshop
Complimentary Social Security Workshop
Space is limited. Register to attend one of our educational events and receive a free, personalized social security report.
If you plan on attending with a spouse, please make sure to register for 2 spots.
Our team will discuss what you need to know before filing for social security and give you the strategies you need for maximizing your benefits!
What
During our educational workshop, you'll get answers to these and many other questions:
Will social security be an option for me?
How much can I expect to receive?
When should I apply for social security?
How can I maximize my benefits?
Will social security be enough for me to live on during retirement?
Reserve Your Spot