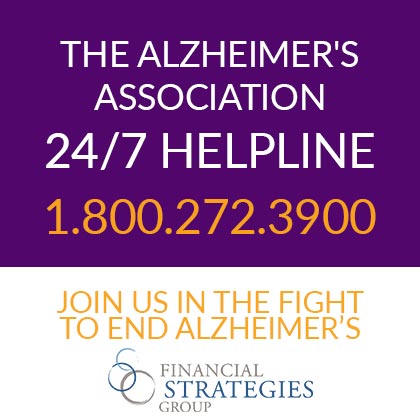 This is Why We Walk to End Alzheimer's
Posted by Financial Strategies Group in Giving More
18
Aug
2017
Did you know that there are more than 5 million Americans living with Alzheimer's disease today?
We recently participated in a *survey with our financial planning peers, and learned that:
61% of us have dealt with Alzheimer's within our own families

81% of us have clients who have been impacted by Alzheimer's

75% of us have friends and family members impacted by Alzheimer's
Alzheimer's hurts the people we love, and we are dedicated to the fight to end this terrible disease.
In June, we told you Financial Strategies Group is raising funds for the Broward Walk To End Alzheimer's on Saturday, October 21, 2017. The money we raise will help fight Alzheimer's disease through vital research, advocacy efforts, and essential support programs and services in our community. Your donations play an important role in improving the lives of people living with Alzheimer's, their families, and caregivers.
To date, we have raised $6,140. Our goal is to raise $20,000 before October 21, 2017.
In addition to our own efforts, we are also members of Integrated Financial Group's national Alzheimer's Team, and have collectively pledged to reach a group-wide goal of $100,000. We are proud members of Integrated Financial Group's consortium of independent financial planners headquartered in Atlanta, Georgia.
Please consider joining us!
You can participate in 2 ways:
You can join us on October 21 in the Broward Walk To End Alzheimer's, or

You can join our team as a "virtual walker' and help raise funds.
Click here to view the Financial Strategies Group Team Page, and find information on participating and donating.
Call our office at 954-888-4680 with any questions. Our sincere thanks go out to you for your consideration of this worthy cause.
One more thing…
If you have friends or family living with Alzheimer's, please share this number for The Alzheimer's Association 24/7 Helpline, which provides reliable information and support to all those who need assistance. The 24/7 Helpline serves people with memory loss, caregivers, health care professionals, and the public. Call toll-free anytime day or night at 1.800.272.3900.
Best regards,
Hank Cleare & Kimberly DeProspero
Alzheimer's Team Captains
Financial Strategies Group
*Survey results from 70 Integrated Financial Group advisor members who independently own and operate their own financial planning practices across the United States, conducted in May 2017.