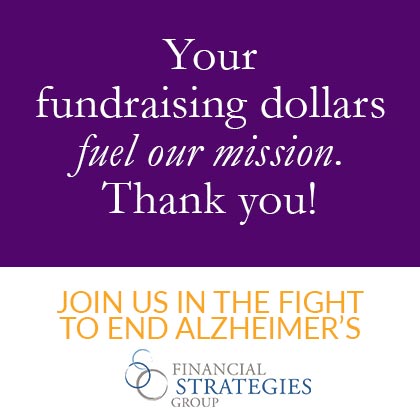 Team Update on Our Walk to End Alzheimer's
Posted by Financial Strategies Group in Giving More
22
Sep
2017
We're less than 30 days out from our team Walk To End Alzheimer's on October 21st, and we wanted to give you an update.
As of September 21st, we have raised $7,615. We're so proud! Our team is $12,385 away from our fundraising goal of $20,000.
Did you know that Alzheimer's is the most costly disease in the U.S? And that the cost of Alzheimer's is set to quadruple to $1 trillion over the next generation?
We know the Alzheimer's Association and our local Broward County chapter put the money we're raising to good use for vital research, advocacy efforts, and essential support programs and services in our community. Your donations play an important role in improving the lives of people living with Alzheimer's, their families, and caregivers.
The time to take action is NOW. This is our last call for team participation, and every little bit helps!
We know you receive a lot of requests to donate your time and financial resources, and we sincerely appreciate your attention. We currently have 41 people on our Team, and are looking for more to join and help raise funds.
You can participate in 2 ways:
You can join us on October 21st in the Broward Walk To End Alzheimer's, or
You can make simply make a donation on behalf of our Team without participating in the Walk.  Click here to view the Financial Strategies Group Team Page, and find information on participating and donating.
Call our office at 954-888-4680 with any questions. Our sincere thanks go out to you for your consideration of this worthy cause.
Best regards,
Hank Cleare & Kimberly DeProspero
Alzheimer's Team Captains
Financial Strategies Group
About Walk to End Alzheimer's
Held annually in more than 600 communities nationwide, the Alzheimer's Association Walk to End Alzheimer's is the world's largest event to raise awareness and funds for Alzheimer's care, support and research. This inspiring event calls on participants of all ages and abilities to join the fight against the disease!
When you participate in Walk (as a Virtual Walker or Team Walker on Event Day), your fundraising dollars fuel our mission, and your participation in the event helps to change the level of Alzheimer's awareness in your community. The Alzheimer's Association provides free, easy-to-use tools and staff support to help participants reach their fundraising goal. While there is no fee to register, we encourage participants to fundraise in order to contribute to the cause and raise awareness.
Join us and lead the way to Alzheimer's first survivor. Together, we can end Alzheimer's disease!